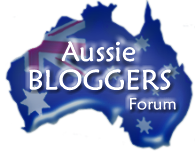 Okay, I've been in a funk most of this week. My timetable at work is particularly overstuffed - my choice, because I really wanted to work with a particular group of students on a short-run, one-off, statewide
online project
- so I'm tired, and I've also felt let down by a few disastrous attempts at socialising (see previous
post
) this week/month/year. And I think I was
dreading
the outcome of tomorrow's meeting in Albion Park, near Wollongong, of the Canberran and Sydney virtual denizens of the
Aussie Bloggers' bbs
. I'd advertised this function on the two blogging Meetup sites I run and, despite telling a supposed interested group of about 140 people, only two of us (sigh...) seem to have committed to joining the Aussie Bloggers tomorrow for the big day. Luckily, there are plenty of Aussie Blogger regulars going.
Coming up soon, it is six months since Aussie Bloggers site launched. The first blog post appeared on December 31, 2007, and the forums were "soft launched" on January 1 this year. It's been a great six months - off the cuff, I don't recall how I found them - I think they invited me to check out the beta testing of the forums?
Tomorrow, I guess you could say we are having a preemptive celebration of the half-year anniversary at the highly recommended
Aviator Lounge
cafe and restaurant. I was assuming I'd be heading down - alone - on the train when, this afternoon, one of the Aussie bloggers attending tomorrow emailed me and offered to collect me from a station much closer to home and
drive me to Albion Park
. Wow, thanks Gemisht. My funk finally lifted, and I'm really looking forward to meeting the merry band tomorrow. (Too bad I'm not providing a train carriage full of bloggers, though, as I'd originally assumed...)
I must say that I've really enjoyed being part of the Aussie Bloggers' community this last six months. I've met some great people through the forums, one (so far) in person -
Hi Riayn!
- and it's been such fun lending my quirky humour to the plentiful
Kaos and Mayhem
threads, where almost anything goes. The more serious forums, such as
Tools & Resources
, have also been really helpful as I continually weigh up the differences between
Blogger
,
WordPress
and
EduBlogs
, and someone
always
comes through when you you have those nagging problems too embarrassing to say out loud. Being an
Aussie
blogger's site, there's lots of good ol' Aussie ocker humour, but we also have numerous international members and we are probably slowly converting them to the more laconic, stereotypical-but-true traditions of "She'll be right, mate".
Happy Six Months Anniversary - and see you guys tomorrow!